Large Personalised Edible
NewsPaper Headlines Cake Topper
From Only £1.95 Printed on rice paper or £3.95 printed on premium Icing sheet.
Large Personalised News Paper Cake Topper (Size A4)
Just choose your headline and your issue date, and if you would like for an additional £1 you can add a photo to be printed with the headline. If you add a photo just email it to us after you have checked out to talk2us@eatmyface.co.uk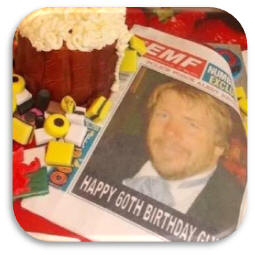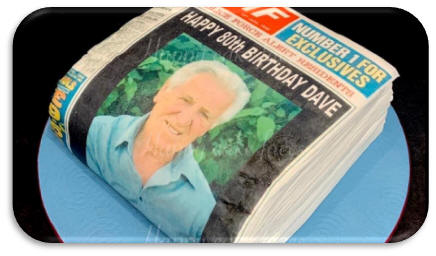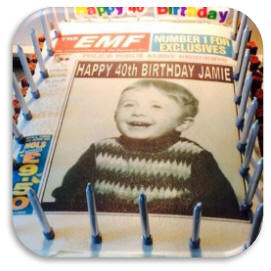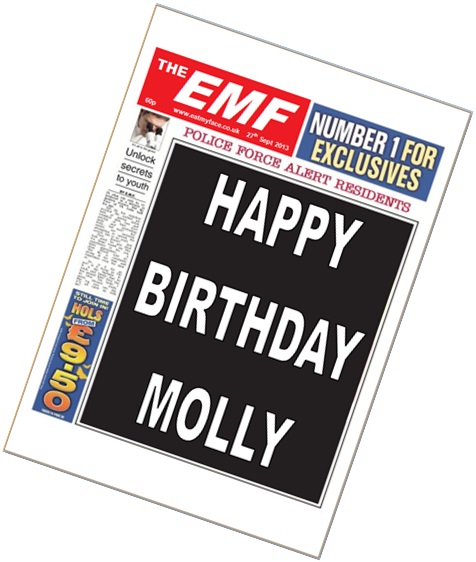 Your topper will arrive with your personalised requirements on a sheet of edible paper for you to cut out ready to stick to your cake, you simply need to cut around the design using clean dry scissors, then stick them to your cake using icing or any other yummy sticky substance (eg. Chocolate, Jam, etc.)
For Best Results, Use on a white background, as the colours will become more vibrant.
Topper can be stored for upto 6 months after purchase
Ingredients: Inks- Water, Glycerin & Food Colorings, Paper- Potato starch. Our edible cake toppers ARE SUITABLE for vegitarians.
~~~~~~~~~~~~~~~~~~~~~~~~~~~~~~~~~~~~~~~
FREE UK DELIVERY WHEN YOU SPEND £15 OR MORE
~~~~~~~~~~~~~~~~~~~~~~~~~~~~~~~~~~~~~~~~
At EatMyFace.co.uk we try to give you the best value for money without any hidden costs. We try our upmost to get your toppers to you asap and we dispatch all personalised Toppers within 24 hours (subject to weekends and bank holidays) using Royal Mail, UK standard postage is fixed at £2.45 and FREE if you spend over £15. Standard Delivery can take approx. 2-4 working days from placing your order. We also offer Next Day Special Delivery services guaranteed by Royal Mail for Urgent orders placed before 3pm and required before 1pm on the next working day.
We also love to hear from you about what sort of Toppers and designs you would like to see and if you've ordered your Toppers we'd love you to send us a photo of them in action on your cakes.

| | | | |
| --- | --- | --- | --- |
| Categories | | | IMPORTANT LINKS: |
| | | |
| --- | --- | --- |
| PLEASE NOTE: Many of the items listed on eatmyface.co.uk are made up of designs supplied to us by customers. Therefore it is not always possible to check the origins of individual designs. If you feel any item on eatmyface.co.uk infringes any copyright please email us and we will remove any offending material within 24 hours. We strive to ensure that all designs do not infringe anyone's copyright, and will do our utmost to rectify any and all instances of infringement. | | |

From Birthdays to Weddings, we can help you on every occasion with
your One Of A Kind Creation.
© EatMyFace 2022.