Here at EatMyFace.co.uk we love to help you celebrate those special occasions with your own very unique Cake Toppers. There are certain times during the year such as Birthdays, Christmas, Valentines, Father's Day and Mother's Day when you get the chance to show your loved ones how much they mean to you. Our range of personalised Toppers are both Unique and Individual to help you celebrate these events, so if you want to tell your dad he's a super dad then we can help you make sure he has the best personalised Cake Toppers.
At EatMyFace Our extensive range of personalised Photo Toppers and Themed Toppers is the first place to stop when you're looking for a unique Cake idea or a memento for a special occasion. Our range includes Cup Cake Toppers, Photos on Chocolate as well as Toppers to suit occasions throughout the year. We can print your photos or business logos, absolutely anything you require to help promote or celebrate any event.

We try to give you the best value for money without any hidden costs. We dispatch all personalised Toppers within 48 hours (subject to weekends and bank holidays) by Royal Mail 1st Class, UK postage is fixed at £2.45 and FREE if you spend over £15. Standard delivery Can take 3-4 working days from placing order and we also offer Next Day delivery services guaranteed by Royal Mail for Urgent orders.
We also love to hear from you about what sort of Toppers and designs you would like to see and if you've ordered your Toppers we'd love you to send us a photo of them in action on your cakes.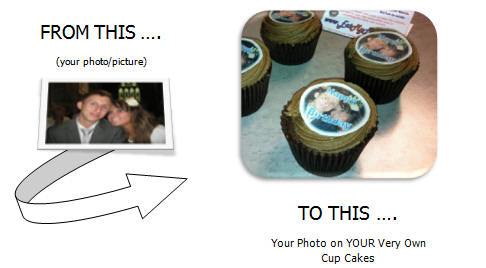 At EatMyFace.co.uk

From Birthdays to Weddings, we can help you on every occasion with
your One Of A Kind Creation.

© EatMyFace 2017.
Visit our sister sites:

your One Of A Kind Creation.