SUTC Stand Up To Cancer 2016
(4.8cm Dia.) Edible Cake Toppers
All Profits Donated to SUTC*
Edible PHOTO/PICTURE Medium Cake Toppers
| | |
| --- | --- |
| | Simply Choose the number of toppers you require below. |
4.8cm edible Cake Toppers
Decorate your Charity Cakes for this years SUTC and also help towards the cause. All you need to do is select the number of toppers required above and add to the basket.
The toppers are approx 4.8cm in diameter, and are printed 20 to each A4 sheet of edible rice/wafer paper.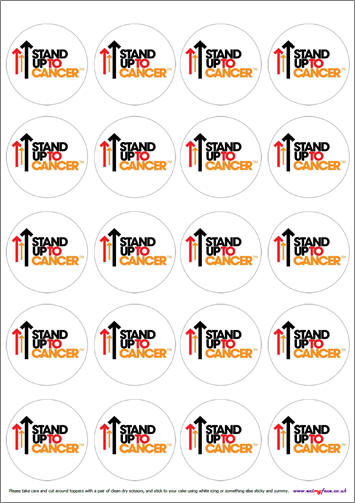 Your toppers will arrive printed on A4 sheets of edible paper for you to cut out ready to stick to your cakes, you simply need to cut around them using clean dry scissors, then stick them to your cakes using icing or any other yummy sticky substance (eg. Chocolate, Jam, etc.)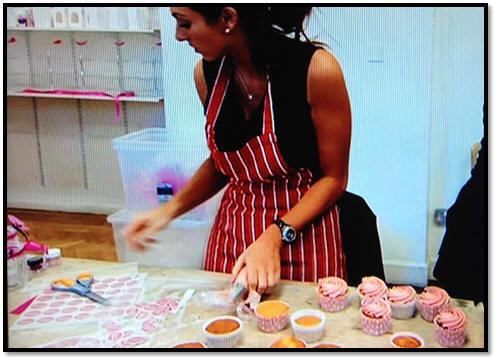 For Best Results, Use on a white background, as the colours will become more vibrant.
Toppers can be stored for upto 12 months after purchase
Ingredients: Inks- Water, Glycerin & Food Colorings, Paper- Potato starch. Our edible cake toppers ARE SUITABLE for vegitarians.
PLEASE NOTE: Many of the items listed on eatmyface.co.uk are made up of designs supplied to us by customers. Therefore it is not always possible to check the origins of individual designs. If you feel any item on eatmyface.co.uk infringes any copyright please email us and we will remove any offending material within 24 hours. We strive to ensure that all designs do not infringe anyone's copyright, and will do our utmost to rectify any and all instances of infringement.